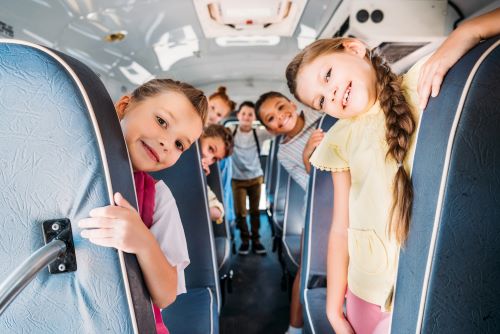 Summer months find many churches taking to the roads with transportation to various camps and other activities. As a ministry leader, safety is a top priority for the church and those you transport.
Following are some suggestions that should be a part of your Transportation Guidelines.
Do not rent or operate a 15-passenger van. These vans were originally designed for cargo, not passengers and have been proven to be unstable, especially if fully loaded with people. True, the stability of these vans has improved over the years but even today, the National Traffic Safety Administration has yet to remove their tag of being "dangerous vehicles".
If you already own one of these vans and intend to use them, please keep these considerations in mind.

Load from front to back
Do NOT place passengers or luggage in the rear seat area
Do NOT tow a trailer
Do NOT carry luggage on top of the van
Pay special attention to tire pressure and tire age
Always wear a seat belt and require the same for passengers
Non-owned vehicle liability coverage is essential for situations where the church controls transportation via volunteers' personal vehicles for organized activities.
Adopt and adhere to a written transportation policy that will include acceptable driving records, driver ages, and driver responsibilities.
If you do not run a Motor Vehicle Report (MVR) on each driver, at the very least, exercise your due diligence by requiring a "Driver Application" on each person driving on behalf of the church (whether they operate a church owned vehicle or their own personal vehicle) and update these at least annually.
If you are renting a vehicle, we always recommend that you purchase the "collision damage waiver" (CDW) coverage offered by the rental agency. This covers any damage or alleged damage to the rental vehicle. We recommend that you purchase this coverage for several reasons.

It removes the "hassle factor" of deciding if damage to the rental vehicle occurred during your use or if it was existing damage.
If you purchase this coverage and some type of damage occurs during your use, you are relieved of any stress about that because it's practically as easy as turning the vehicle in and walking away.
Some insurance policies will not cover damage to a rental vehicle.
Some insurance policies allow you to add this coverage, for an additional premium, but it often comes with a deductible (which often will exceed the cost of purchasing the CDW) and will likely have a maximum limit of coverage so be aware what those are.
Before you pull out of the parking lot, make sure each driver has a complete set of permission forms for everyone in their vehicle.
If you have multiple vehicles leaving at the same time, do not rely on drivers following each other – in fact it's important that vehicles don't try to caravan. Traffic may cause vehicles to get separated and attempting to maintain a caravan can often lead to unsafe driving.
If it's a "long trip", agree in advance where you will stop for breaks. On long trips, err on the side of stopping frequently.
Remember, none of the above guidelines are difficult to implement, they just require a little pre-planning. Your ministry is worth the invested time.