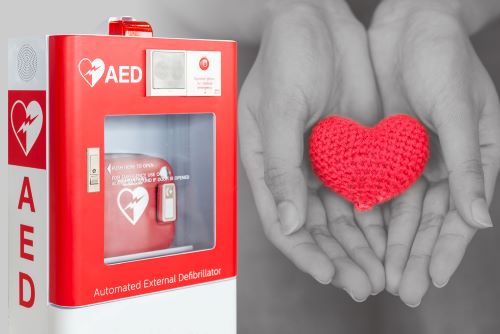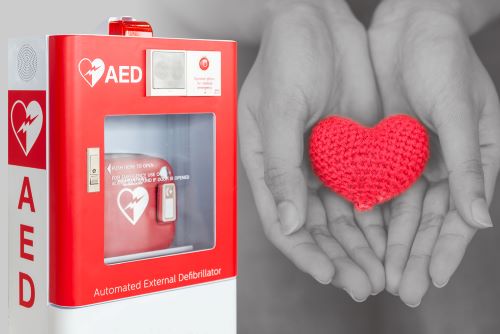 Automated External Defibrillators (AED) – Should We Have One?
Let's assume someone at your church collapsed with a heart attack.  In the days that followed, questions are likely to arise such as…………"Was there anything we could have done?" "Would it have mattered if our church had a defibrillator?" "If we did have a defibrillator, would our church have been liable if it was not used properly, or failed to save someone's life?" "Could our church be liable for someone's death because we don't have a defibrillator?"
AEDs are one of the most powerful and effective tools for saving lives from sudden cardiac arrest.  The American Heart Association reports that sudden cardiac arrest victims who receive a shock from an AED after collapse have significantly higher chances of survival than those who do not.  AEDs are specifically designed to be user friendly, so bystanders can quickly and effectively use them during a cardiac emergency, even before professional medical help arrives.
In Texas, certain locations are required to have an AED on premises.  This includes:
Schools
Nursing Homes
Dental Offices
Extended Care Facilities
Some Texas businesses who desired to place an AED on premises have been hesitant to do so, fearful of liability issues that could arise after a medical emergency.  However, on June 14, 2021, Senate Bill 199 was signed into law by Governor Greg Abbott.  This new law seeks to address those concerns and make obtaining an AED an easier choice for businesses, as well as updating inspection requirements to maintain AED functionality.  For a business/entity that owns, occupies, manages, or is responsible for an AED, this law removes liability for civil damages related to the use, attempted use, or failure to use the AED.
For example, if an AED is used on a sudden cardiac arrest victim at a gym but fails to save that victim's life, or the AED is not used at all, the gym cannot be held liable unless their conduct can be proven to be willfully or wantonly negligent.
The law also provides similar protections from liability for physicians who prescribe an AED and/or those who train others in the use of an AED.
For businesses with an AED on premises, the law provides new requirements that the AED be inspected on a monthly basis to check that:
The AED is placed in its designated location
The AED appears to be ready for use
The AED is not damaged
The law removes CPR/AED training requirements for businesses who obtain an AED
If your organization does not currently have an AED on premises, easy access to an AED can mean the difference between life and death.
Some Final Thoughts….
Easy Access: If you currently have an AED or plan to purchase one, keep in mind that if you have a large building or multiple buildings, you need to have enough AEDs to be easily reached from anywhere within 3 minutes or less.  You may need more than one AED!
Have a trained and fully equipped Medical Response Team. Ideally, a Medical Response Team should physicians, nurses, emergency medical technicians, or other trained medical professionals. While that may not be possible with all organizations, at a minimum, everyone on a Medical Response Team should complete training in first aid, CPR, and other medical response techniques through a reputable organization like the American Red Cross.
Line up the right equipment. Besides the automated external defibrillators that we've been discussing, additionally ministries should have first-aid kits throughout the building. The Medical Response Team should have access to a larger and more fully stocked first-aid kit for responding to more serious emergencies. First-aid kits should be purchased through a supplier who can supply assistance and advice regarding the proper items to include.
Invest in training. Emergencies usually include a high level of emotion, so proper training can help team members stay calm and focused. Training should condition team members to follow a standard procedure of diagnosis and response to insure that the injured person is transferred to medical professionals with the best possible chance of recovery.